The latest designer collaboration for Barbie, and the first for 2022, is with Balmain. But it is not like previous efforts, where one usually could get a doll dressed by the collaborating fashion brand or that plus some real human clothes to suit. This time Mattel and Balmain decided to move their collaboration to a new level. It seems that the constant race on today's social media fuelled digital landscape to come up with the most outrageous, jaw-dropping and previously unthinkable partnership has no end in sight. Balmain of course is a storied French haute couture house that has ventured into ready-to wear and, for the last ten years, enjoys a renaissance helmed by the genius Olivier Rousteing. Barbie is the prominent fashion doll, the very definition of the term, so it almost a given that fashion designers and brands are eager to collaborate with it.
This time, in a shocking (at least for fashion doll collectors) move, there is no doll involved: what we (ehm, those of us that can afford it) get instead is a 50-piece Barbie-inspired collection of real people clothing. Three of these are cgi modeled by miniature racially diverse doll avatars and become NFTs to be auctioned online. Each NFT auctioned will come with the doll-sized clothing it depicts, which is another way for NFts to show authentication - it also makes the auction a bit more attractive for traditional collectors. Notice how they have digitally altered the dolls used for the photos to make them look like dollified humans - or are they humans made to look like Barbies?
If you have no idea of that NFTs are, you can read this article here, which is very enlightening in a non-technical way and has lots of relative links for even more explanations and details. The majority of reactions I have seen from fashion doll collectors online so fat amounts to a collective NO to the notion of NFTs entering the fashion doll world and lots of pearl clutching. I am not attracted to NFTs but the reactions and exasperation seems to be a bit hyperbolic (which is not unusual for the fashion doll world indeed). Collectors seem to think that everything Mattel does with Barbie should have them in mind first and foremost.
Well, I am sorry to break the news to many, but this will never happen. Brands, especially multi-million dollar empires like Mattel, always look for ways to make more money, and if they can be unique and creative, its even more attractive to them. When collaborating with a major fashion brand, that comes from an industry also looking for new ways to become more commercial and move in the digital landscape of our era, it is only natural that they would release NFTs - Marvel has done it already.
I understand the disappointment of not getting an Olivier Rousteing Balmain collectible Barbie, but one may come in the future - there was talk about continuing the collaboration between the two brands at the conclusion of the live presentation held by Mattel, Balmain and Mint NFT on the 11th of January. By the way the three corporate honchos talked, it seemed that they worked well together (it took two years for this to come to fruition) and that the response is overwhelmingly positive (and no, despite what you think, their world does not revolve around the very small fashion doll collecting community).
Olivier was not part of the presentation but they showed a video clip of him answering questions about the collaboration and being very enthusiastic and happy about it. he even got an OOAK mini Olivier done from Mattel. which he posted on his instagram account days before the collaboration became known. He said:
"Having Barbie in my Balmain army, making a collection inspired by her where there are no boy clothes or girl clothes, is my small revenge," said Olivier Rousteing, the creative director of Balmain. "I think Barbie represents a joyful dream world. There's nothing wrong with a dream. But let's push the dream and not dream of the 1950s or 1960s, but 2022. For me, it's a lot more than just a commercial project. It's very emotional."
He also said that he got derided when he was playing with Barbie as a kid, a very familiar feeling to most male fashion doll collectors, and that was one of the reasons he was interested in taking the collaboration with Mattel beyond dressing the doll.
Richard Dickson, the president and chief operating officer of Mattel, said:
"When you combine the seriousness of high fashion with the fun of toys, it's very powerful"
and it is actually true. It is one of the reasons fashion brands collaborate, not only with Barbie, but with other toy brands as well, or even sell limited editions of their own toys. It is one more branded/logo thing to display/brag about. Or maybe even feel sentimental about. "People are looking for optimism and joy, especially now when life is very heavy," Dickson said. "Toys are that by definition." That applies to fashion as well.
Talking about fashion, what about the clothes? The pricing for the Barbie x Balmain collection ranges from $295 for a T-shirt to $42,494 for a gown, definitely more expensive than usual Barbie prices, but also less than classic Balmain, where a basic logo t-shirt retails for $495. This is not H&M stuff. There are giant puffer bags logoed with Balmain Paris in curving Barbie script under the 1970s Balmain logo and clear plastic shoppers that remind me of Barbie doll boxes. There are pink silk satin suits with wrap jackets and striped pyjama sets, sequinned mini dresses and a strapless mermaid gown. Overalls, sweatshirts and sharp-shouldered bouclé jackets with gold buttons complete the collection.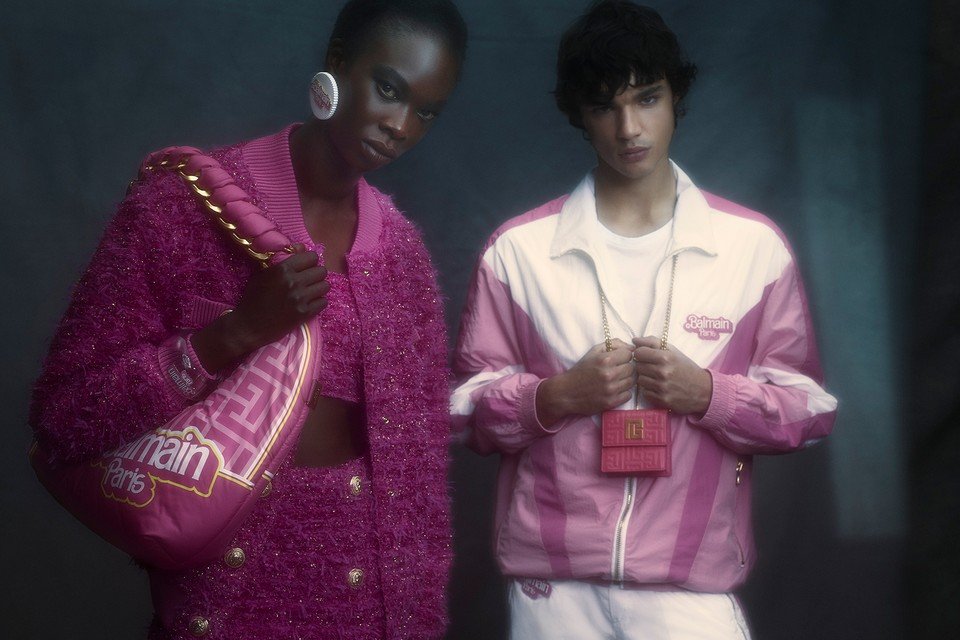 And what about the digital art? The auction started yesterday and will end on January 14. If you had registered for the online presentation, limited to the first 5,000 was a simple NFT video of the invitation for the event. And of course you can see the NFT videos and even download them. The prices have reached somewhere around $1600 for each at the time of writing. Let's check them out. And yes. I'd love to have the dolls as collectibles, properly released. Maybe some other time. I include the blurb for each NFT from their website.
"This stylish avatar is wearing a striped sweater dress with a shoulder cut out and carrying a pink maxi pillow bag featuring Balmain's signature monogram and Balmain x Barbie logo"
Below you can see the actual doll clothes made by Balmain and Barbie - we must mention here that the talented Linda Kyaw and her team supervised the project for Mattel. It is a knit dress with a leather and chain belt that matches the handle of the puffer bag that comes with it. Pink mules complete the look. I love it, even though my favourite dress from the collection is the one with the Balmain logo as a print (which Olivier had already done in other colours for his main collection).
"Barbie avatar makes a huge statement in a short voluminous dress with maxi bow detail in a pink silk satin. (if needed: the background of the NFT features a white lacquered Balmain signature monogram with a Balmain x Barbie logo frame) Fashions and accessories on the Barbie avatar are from the Balmain x Barbie collection; NFT comes with bespoke set of Barbie size Balmain pieces."
This one is a more couture style dress, with the puffed sleeves and bow front. It does bring to mind a certain pink dress that Zac Posen did for Iman a while ago. Event though it should not have translated in doll size, it actually looks great, like a peony blossom. Feathered mules, a gorgeous bag, disc earrings and a necklace complete the look.
"Ken avatar looks chic in a white cotton t-shirt with pink trim topped with a double-breasted blazer and a long peak collared coat paired with loose pleated trousers- all in pink back satin crepe. A Balmain ball cap finished the stylish look. (if needed: the background of the NFT features a white lacquered Balmain signature monogram with a Balmain x Barbie logo frame) Fashions and accessories on the Ken avatar are from the Balmain x Barbie collection; NFT comes with bespoke set of Barbie size Balmain pieces."
This piece looks amazing, the doll clothes are very well made and the tailoring is so sharp. Tailored jackets never look so well made in doll size. Gorgeous. The pieces comprising it are an overcoat, a jacket, a t-shirt, pants, a cap, a pair of disc earrings and a pair of sneakers. Can we also have a Ken with this handsome face? No plastic hair please.
This collaboration is not and never was about fashion doll collectors. It was conceived and made to be a major fashion and tech event to show that both companies have their hearts and minds firmly set in the now and the future, and it succeeds. And it is of course always about the money, no matter how many sugary words you hear and read in the presentations. The collection will go live on the Balmain website on January 13 and some of the items will be available from other online retailers as well.